Video Spotlight

18v Cordless Landscaping Machines

Makita has always had the vision that society and global communities should be able to develop for themselves, and future...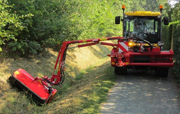 Multihog revelled in the limelight at SALTEX with new attachments showcased alongside sister companies Cardley Wave and Cardley Bingham's products, with a high volume of visitors attracted to the stand. A brand new Multihog MX was accompanied by Chemical...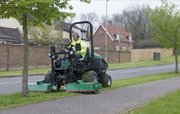 Launched at SALTEX back in 2013, Ransomes Jacobsen are exhibiting their Meteor cutting unit, which demonstrates the concept of using a flail rotor within the footprint of a cylinder mower, providing the robustness and versatility of a rotary mower...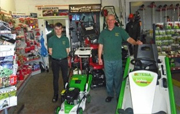 Etesia UK has added to its ever-growing network of dealers after announcing two new dealerships for Somerset and Northumberland. Etesia has been leading the way in building high quality grass cutting machinery for both the professional and domestic market...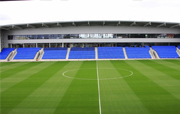 Oldham Athletic AFC has chosen to work with Everris, part of the ICL Group, for all of its turf requirements. From seed to fertilizer, every blade of healthy grass you see at SportsDirect.com Park and the club's training ground has been treated with an Everris product...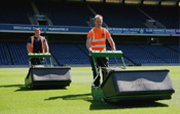 Alan Abel, a Complete Weed Control franchisee for over thirty years, gives his advice for turf managers over the winter period. As we enter the last part of the year; it has been a season of exceptional autumnal colours on our trees...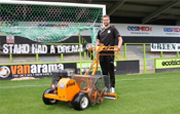 Forest Green Rovers FC, the world's most sustainable football club, has turned to the SISIS Autoslit and the SISIS Javelin Aer-Aid 1500 to help them keep on top of their intense aeration programme. The club boasts the world's first ever organic football pitch...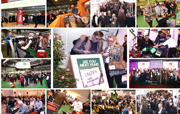 SALTEX (Sports Amenities Landscaping Exhibition) celebrated its 70th anniversary in style as the UK's largest turf care event proved to be an unprecedented success at its new NEC Birmingham home - with over 270 exhibitors and more than 8,000 attendees showing their support...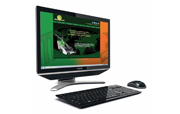 Etesia UK has announced the launch of a new website – www.planet-etesia.com, which allows visitors to the site to read customer reviews and comment on its extensive range of innovative products. Etesia has long been impressed by the brand loyalty shown by its customers...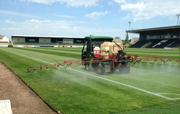 Forest Green Rovers FC, the world's most sustainable football club, has chosen to obtain the services of Complete Weed Control. For the last five years, Forest Green Rovers' mission has been to become the greenest football team in the world. In fact everything...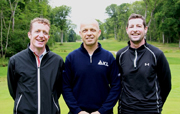 Horsham Golf and Fitness is already the proud owner of two magnificent golf courses but it appears that they are saving the best for last. The 'Oaks' - a stunning 18-hole course, is set for its grand opening in spring 2016 and it has already reaped the rewards...



To leave comments and feedback on the issue please contact Paul Hawkins
TSP Media Ltd, Grosvenor House, Central Park, Telford, TF2 9TW





You received this email as a subscriber to a Tanner Stiles Publishing Ltd publication.
If you would no longer like to receive these emails please unsubscribe here