Video Spotlight

Wessex ProLine CRX-410 MultiCut Mower

Never before has the industry seen a trailed, TRI-DECK MULTICUT MOWER boasting exceptional ground contour...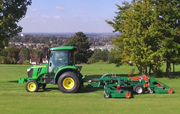 After making its debut at Saltex 2015 and appearing at BTME this year, the Wessex ProLine CRX-410 has set a new standard in mower technology. This innovative model has been awarded the What Kit? Tractor Mounted Mower of the...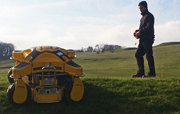 Royston Golf Cub, located on the Cambridgeshire and Hertfordshire border close to the A505, has taken delivery of a Ransomes Spider 1 remote controlled mower from their local Ransomes Jacobsen dealer, Ernest Doe & Sons Ltd...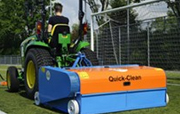 The GKB quick brush is the one stop shop for regular maintenance on your synthetic turf. With its 2 specially designed brush heads these will give your surface a level and tidy finish, decompacting the infill and removing and removing any unwanted fibres...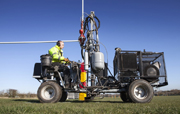 Sport is a vital part of life at Moulsford Prep School in Oxfordshire and the boys' preparatory school has a well-deserved reputation for playing outstanding rugby. It follows that keeping the extensive playing fields in top condition is a priority...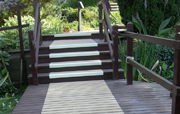 A favourite with the UK Forestry Commissions and Councils Grp Anti Slip decking strips are the perfect solution for pre existing decking that often becomes slippery in frosty and wet weather. With arguably the hardest grit on the market our decking strips...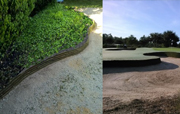 Wessex International report an exceptional year in 2015 for the growth in popularity of the ProLine RMX professional roller mowers. At introduction the Wessex ProLine roller mower certainly heralded a new dimension in sports and amenity turf maintenance and a cost-effective...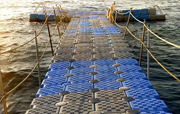 TPA Pontoons is a provider of modular floating pontoons for a diverse range of installations across an array of UK Industry Sectors. Whether your requirement is for a pedestrian walkway, bridge or working platform, TPA Pontoons modular systems provides a stable...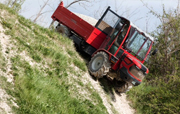 CTM, Goldoni's UK importer has added Caron utility vehicles to their range. They now claim to have the UK's best range of all-terrain tractor transporters. CTM is based in the heart of the Yorkshire Dales National Park which is an ideal location to show...



To leave comments and feedback on the issue please contact Paul Hawkins
TSP Media Ltd, Grosvenor House, Central Park, Telford, TF2 9TW





You received this email as a subscriber to a Tanner Stiles Publishing Ltd publication.
If you would no longer like to receive these emails please unsubscribe here