Having trouble viewing this email? Click here to view Online
| Latest News, Products & Developments | |
| --- | --- |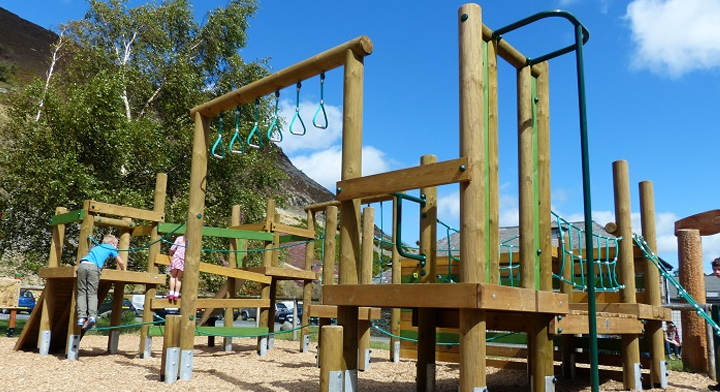 Wicksteed wows Welsh Water
A play area situated right in front of a huge dam is an awesome sight and a terrific place to expend some energy on challenging, tactile and adventurous equipment whilst also having fun. This site, located at Elan Valley Visitor Centre and...
New distributors for VSI range

GSCS Street Design are the new UK distributors for the range of US manufacturer Victor Stanley Inc. (VSI) Available in the UK since 1988 the VSI range includes...

First GKB Sandfiller in Ireland

Brian Martyn has a long-established association with GKB Machines, having sold them in the USA, and Martyn's Turf Machinery are handling GKB as dealers for southern...
​Rigby Taylor achieves top marks at Eton College

Rigby Taylor has signed a three-year deal with Eton College that will see the world-renowned independent school using Rigby Taylor's Impact line marking system and award-winning...

Makita's new cordless chainsaw matches petrol performance

The new Makita DUC353Z Twin 18v Brushless motor chainsaw sets new standards for cordless chainsaws and matches the logging performance of similar...
​Ransomes Jacobsen celebrates 185 years of mower manufacturing at Ipswich

This year sees a major milestone in the grounds care industry with Ransomes Jacobsen celebrating its 185th anniversary of mower production at Ipswich. Edwin Budding's...

​XCU promotes healthy plant response

XCU slow-release fertilizer provides gradual, steady nutrition. It has been widely used by turfgrass managers to economically and efficiently promote a plant response of health, growth and color for up to 10 weeks per application...
Makita

DUC353 is a cordless chain saw powered by two 18V Li-ion batteries...
VIEW THE LATEST ISSUE OF
LANDSCAPE & AMENITY
Part of the TSP Media Group | Suite 3.06, Grosvenor House, Central Park, Telford TF2 9TW
Unsubscribe.